Many art enthusiasts and collectors often wonder, "What is the value of Bob Ross paintings?" Understanding the worth of these serene masterpieces isn't just a matter of admiration, but also of investment.
Modern Artifact has years of experience in the art industry, particularly with appraising Bob Ross paintings. Our expertise has been honed through countless interactions with these artworks, making us a reliable source for accurate valuations.
In this guide, we'll dive into the varying values of Bob Ross' paintings, factors influencing their worth, and how you can ensure you're getting the best deal, whether buying or selling.
What Is the Value of a Bob Ross Original Painting?
Bob Ross paintings can vary widely in value - from $8,000 to nearly $10 million. Most of his typical paintings fall on a standard size 18" x 24" canvas fall within the range of $25,000-$65,000 at this time. Prices for Bob Ross artwork have appreciated considerably over the past decade.
High-End Values
Bob Ross paintings that are exceptionally unique or significant can fetch prices much higher than the average. Some of the most valuable Bob Ross paintings have sold for upwards of $65,000. Works painted during episodes of "The Joy of Painting" typically sell for the highest price. Notably, "Row Boat on the Beach", from season 24, episode 10, has been valued at a staggering $95,000. The debut work from the show, "A Walk in the Woods", from season 1, episode 1 was put on the market for a price of $9.85 million.
Low-End Values
While most Bob Ross paintings hold a significant value, certain circumstances can lower their worth. Factors such as damage, lack of authentication, or over-abundance in the market can lead to reduced prices, sometimes falling below $8,000. At the low end of the market we see Bob Ross velvet inside gold pan paintings, typically from 1980 or before. These paintings are the most common, are the smallest in size, and feature a technique that pre-dates the wet-on-wet technique he is most famous for.
Factors That Influence the Value of Bob Ross Paintings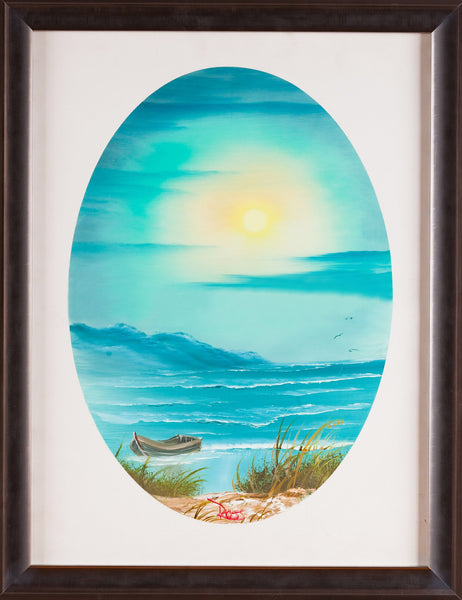 Bob Ross
"Row Boat on the Beach"
24" x 18"



The value of a Bob Ross painting can be influenced by a plethora of factors, including: date painted, canvas size, authentication, condition, and subject matter. According to Modern Artifact owner, Ryan Nelson, "The number one thing that can increase the price of an original Bob Ross painting is a record of outstanding provenance". Which can include episode pieces from "The Joy of Painting" as well as documented public exhibitions at museums or art fairs. Even personal photographs of the original work with Bob Ross can help improve the provenance of a piece and increase its value.
Artworks from "The Joy of Painting"

Bob Ross
"A Walk in the Woods"
18" x 24"



Artworks that were featured on Bob Ross' iconic show, "The Joy of Painting", tend to be more valuable. Their appearance on the show can increase their value by 20-30%.
Painting Orientation

Bob Ross
"Misty Forest"
18" x 24"



Vertical paintings, which are rarer in Bob Ross' collection, can sometimes be valued higher due to their distinctiveness. Ross occasionally used ovals as a compositional element, and those paintings can also be worth more due to their uniqueness.
Painting Size

Bob Ross
"Towering Peaks"
24" x 36"



Larger paintings tend to fetch higher prices due to their detail and rarity.
Subject Matter

Bob Ross
"The Old Mill"
18" x 24"



Unique features, such as buildings or intricate landscapes, can significantly increase the value of a Bob Ross painting, showcasing his versatile skills.
Artistic Quality

Bob Ross
"Mountain Scene"
18" x 24"



Pieces that display exceptional artistic quality, with intricate details and breathtaking visuals, are naturally valued more highly. This speaks to the talent and vision of Bob Ross.
Discover More with Modern Artifact
Through this journey, we've explored the depths of Bob Ross' paintings and their values. Whether you're a seasoned collector or a budding enthusiast, understanding the value of these artworks is crucial.
Modern Artifact prides itself on its expertise in the art world, especially when it comes to Bob Ross. Whether you're looking to buy, sell, or simply learn more, our team is here to assist.
Looking to dive deeper? Explore our guides on Buying and Selling Bob Ross Paintings, How to Authenticate Bob Ross Paintings, and our comprehensive Bob Ross Painting Appraisal Guide.
Ready to make a move? Visit our pages to buy Bob Ross Paintings or sell Bob Ross Paintings today.